THIS VIDEO BLOG IS DEDICATED TO THE
ORIGINAL PUNK BANDS FROM 77 TO THE
EARLY 1980`S...VINTAGE VIDS BY VINTAGE
BANDS,MTV PUNK GET OFF THE AIR-THIS
IS THE REAL MC COY!
W E S T C O A S T
back in 77 the westcoast was the punk rock place
to be.compared to new york or boston the scene
here was wilder & younger & more influenced
by the uk punk look & sound.the british music
press in the 70`s looked down at the la punk bands
as johnny-come-lately-copycats & second rate
middle class-poseurs,ignoring the facts that bands
like CRIME,DILS,SCREAMERS or THE WEIRDOS
added some x-tra hollywood flavour to the brit true
grit-doleque punk rock & created a riot of their
own(uk punk was black &white,westcoast punk was
colour tv).los angeles & san francisco were the punk
rock epicenters at that time : punk clubs like THE
MASQUE(la) or MABUHAY GARDENS(sf),fanzines
like SEARCH & DESTROY(sf) or SLASH(la) or djs
like RODNEY BINGENHEIMER ruled the scene.
in the 1977`s us-major labels would never sign a
punk band (with a handful exceptions like DEAD
BOYS,RAMONES or THE DICKIES)-it`s an urban
folk legend that us-president jimmy carter had a
secret meeting with major label executives,where
he advised them not to sign punk bands.though
a wave of independent labels swept over the states
from coast to coast la`s DANGERHOUSE was def-
initely the top of the creap - great bands,great tunes,
great artwork,all killers no fillers.TARGET VIDEO
was the first punk rock video production company
worldwide (lotsa videos in this blog are TARGET
VIDEOS,had their records out on DANGERHAUS).
between 76 & 79 punk rock was alive & kicking on
the wastecoast ,then hardcore,mohawks,slam
dancing & stage diving took over.some of the first
generation crossed over,but most of the old punks
were gone for good.
for those who wonder why household bands like
SOCIAL DISTORTION,YOUTH BRIGADE,THE
MINUTEMEN or 7 SECONDS are not included,
it`s just that they rather belong to the silver than
the golden age-talking about the second & third
generation(some of the bands in this blog are on
the edge but somehow they had to fit in sound-
wise-but in the end of the day it`s just my blog
& my personal taste lock,stock & barrel).

SAN FRANCISCO/BAY AREA





CRIME-BABY YOU´RE SO REPULSIVE


Baby you're so repulsive
honey you're so sick
Baby you're so repulsive honey
I'm a masochist
Baby, honey when I'm motor-bikin'
all around your town
Bad girl movin' forwards & then backwards
& I'm upside down you're so repulsive
Baby you're so repulsive & you got me down
Baby you're so repulsive think
I'm gonna hang around
Baby, honey when I see you comin'
I just gotta run
Baby, I'm movin' faster & faster
I'm like a tommy-gun
You're so repulsive
Baby you're so repulsive
Honey you're so sick
Baby you're so repulsive
Honey I'm a masochist
Baby, honey when I'm motor-bikin'
all around your town
Bad girl movin' forwards & then backwards
& I'm upside down
you're so repulsive so repulsive Baby
the city`s out-of-tune so are we-san
francisco`s first rock & roll band.imagine
a band called CRIME dressed in police
uniforms playing to a bunch of hardened
criminals at san quentin,how punk can
you get!CRIME got banned at some sf-clubs
for putting HITLER on their posters.they
released 3 45`s in 3 years.on the last one
they changed to a vicious,hot-wired funk
punk sound.CRIME are back in action today.


THE DILS-CITIZEN
first self-claimed communist punk band,
moved from carlsbad to san francisco.when
original singer jeffrey scott left,THE DILS
remained as a trio with the kinman brothers
taking over vocal duties.a sonic call for arms,
agit prop-pogo for the mabuhay in-crowd,
KARL MARX-manifests in breakneck speed.
their claim to fame was a short appearance in
a CHEECH & CHONG-movie.when THE
DILS deceased the kinmans formed RANK &
FILE,one of the 1st american cow-punk bands.
THE AVENGERS-CAR CRASH
Sittin at home all alone. I hear a voice
on the telephone telling me that you're dead.
You wrecked your car, you lost your head
Said you had a car crash,
Now you're dead
on the road with your head smashed.
I heard the news, it can't be true
Oh it might happed to you
whoa whoa whoa no no no
Why did you leave me? Why did you go?
Knew this would happen and I told you so.
But you didn't listen to what I said
forget it baby, you lost your head.
I dreamed you had a car crash & dead
on the road with your head smashed.
Heard the news. Can't be.
How could you have done this to me?
whoa whoa whoa no no no
Sittin at home all alone. I hear a voice
on the telephone telling me that you're dead
man you lost your head.
punk rock icon penelope houston fronted
this obnoxious teenage garage band.they
weren`t fascists,they weren`t comunnists,
they were the one.THE AVENGERS
supported(together with THE NUNS)THE
SEX PISTOLS at their famous last stand at
WINTERLAND,PISTOL steve jones produced
their premier 45.in the 80`s penelope
houston became a desperate folkie before
THE AVENGERS reunited in the new millenium.

THE SLEEPERS-SISTER LITTLE
intense slow motion punk from palo alto,
post punk before it became fashionable.
vocalist ricky williams was CRIME`s first
drummer before he became the sleepy
hollow voice of THE SLEEPERS.he was
the main topic of MARY MONDAY`S song
"i gave my punk jacket to ricky".they re-
leased only one45 at their prime before
they blasted off in silence.
ricky williams joined FLIPPER.
THE ZEROS-DON´T PUSH ME AROUND
four teenage outcasts from the barrio
turned from a sleazy NEW YORK DOLLS
-influenced glam rock outfit called MAIN
STREET BRATS into snotty punk rockers
when they discovered the new wave.coming
across like RICHIE VALENS backed by THE
RAMONES they were actually the youngest
band that played THE MABUHAY in 77.
singer javier later became EL VEZ,mexican
king of lucha libre-rock & roll.

THE MUTANTS-INSECT LOUNGE
unusual art-punk band from san francisco
fronted by 2 girls & 1 guy as singers.welcome
to the new,dark ages.THE MUTANTS supported
THE CRAMPS at their infamous gig at napa state
mental hospital,took part in the "LOUD,FAST,
SHORT"-movie & on the "LIVE AT DEAF CLUB"
-compilation.recently they did a reunion.
DEAD KENNEDYS-CALIFORNIA ÜBER ALLES
I am Governor Jerry Brown my aura smiles
And never frowns soon I will be president...
Carter Power will soon go away
I will be Fuhrer one day
I will command all of you
Your kids will meditate in school
Your kids will meditate in school!
California Uber Alles California Uber Alles
Uber Alles California Uber Alles California
Zen fascists will control you 100% natural
You will jog for the master race
And always wear the happy face
Close your eyes, can't happen here
Big Bro' on white horse is near
The hippies won't come back you say
Mellow out or you will pay
Mellow out or you will pay!
[Chorus]
Now it is 1984 knock-knock at your front door
It's the suede/denim secret police
They have come for your uncool niece
Come quietly to the camp
You'd look nice as a drawstring lamp
Don't you worry, it's only a shower
For your clothes here's a pretty flower.
DIE on organic poison gas
Serpent's egg's already hatched
You will croak, you little clown
When you mess with President Brown
When you mess with President Brown

biggest us-punk band ever,even today
you`ll find the DK-logo sprayed on the
back of numerous leather jackets all over
the world.in 79 jello biafra was running
for mayor in san francisco.first westcoast
band that toured europe in 1980.just for
their name THE DEAD KENNEDYS were
rock&roll public enemy no.1,only TIPPER
GORE could stop them in their tracks - the
united states vs THE DK.after the public
assassination of THE KENNEDYS jello
biafra became a spoken word artist/guest
vocalist,fronted LARD & established one of
the biggest american punk/hc-labels
ALTERNATIVE TENTACLES.some years
ago THE DEAD KENNEDYS did a come-
back without jello biafra(sic!).

NEGATIVE TREND-BLACK & WHITE
when the 1977 punk band GRAND
MAL got rid off their singer don
vinyl for being too wimpy(he went
& formed america`s first ska punk
band THE OFFS),they recruited
rozz as the new singer & changed
the name to NEGATIVE TREND.
psychotic punk rock at its best,
public noisance as entertainment,
negative to the core.when the trend
passed away,
the boys from the band founded acts
like FLIPPER,TOILING MIDGETS,
THEATRE OF SHEEP or became
punk rock solo artists like rik l. rik.

FLIPPER-LOVE CANAL

We set sailing floating down the love canal
We set sailing drifting down the love canal
We seem strange our bodies are breaking down
We are breeding our children look like monsters
We are breeding not to children but to monsters
We feel pain poison is killing our every cells
We are bitter poison is killing our very cells
We are dying our common grave is the love canal
We are dying our common grave is the love canal

FLIPPER consisted of ex-NEGATIVE TREND
-members ex-SLEEPERS-singer ricky williams,
but ricky got fired before any recordings took
place.FLIPPER was the bay area-answer to the
new york no wave bands-minimal music,
maximum noise.they got signed by the sf-art
punk label SUBTERRENEAN RECORDS,where
they released 2 albums.after will shatter`s death
on drugs in the mid 80`s they called it a day,but
reunited in the 90`s & recorded a new album.
THE READYMADES-415 MUSIC
when drummer brittley black left CRIME he
was ready for THE READYMADES.THE READY-
MADES were the opposite to CRIME`s intense
drone punk - they played power pop with the
accent on power.for the 415 MUSIC-compilation
(415 is the police code for disturbing the peace)
they wrote & performed the title song.like THE
MUTANTS & THE CRAMPS before THE READY-
MADES played at NAPA STATE MENTAL HOS-
PITAL-when singer jonathan postal went berserk
on stage,there was no stoppin` the cretins from
hoppin`.415 music:white boys making white noise.

UXA-DEATH FROM ABOVE
a young girl from chicago
stayed up in her room
while mommy & daddy
were working down the tomb
on sundays they went to st.stephens
to have their cancer kissed
we`re absent items on our knees
& we never been missed
just try & get pissed
somewhere in a city
physicians & lawyers in the street
someone watched from a window
shivvering mystique
there are many examples
of occupied territory
no actual excorcism no terror
will free them
no saviour with style
i`m dressed up in surplus gear tonight
so i look like a master of some strange fright
i`m trying to telephone
i`m asleep in the rain
& when this high wears off
we`ll score some pain
death from above
another girl another planet another gang
of teenage fuck ups back in the garage
w(a bullshit detector.UXA(united ex-
periments of america)came together in san
francisco but relocated in los angeles later.
de de troit`s boyfriend punk artist michael
"killer"kowalski(who wasn`t in the band)
delivered mean & meaningful lyrics to the
sonic blast boom of the band.when in 78
kowalsky died,UXA continued & released
an album.after the UXA the singer formed
the DE DE TROIT BAND.
THE SYMPTOMS-SIMPLE SABOTAGE
obscure sf-band that stepped into the spotlight
first on the 415 MUSIC-compilation with their
great one-off punk hit "simple sabotage".THE
SYMPTOMS are still on the loose - touring &
releasing records ignored by joe public punks.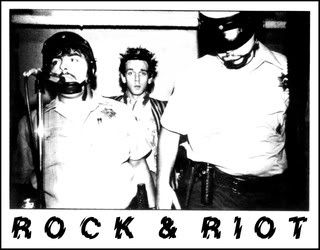 LOS ANGELES / SOUTHERN CALIFORNIA
THE SCREAMERS-122 HOURS OF FEAR
he said In front of you and in front of me
He made the pilot get on his knees
Made him crawl, made him whimper
Made him cry out for his mother
Wow! What a show!122 Hours Of Fear
Wow! What a show!122 Hours Of Fear
122 Hours Of Fear 122
"You better shut up & listen!"
he said danger, danger, danger, Mr. Schumann
We are in a hurry, Mr. Schumann
What are the odds, dear Jorgen?
Am I disturbing You?
Wow! What a show!122 Hours Of Fear
Wow! What a show!122 Hours Of Fear
122 Hours Of Fear 122
greatest unsigned band ever,30 years
ahead of their time,godfathers of synth
-punk,kings of screamo -more punk
than most guitar bands.

they first came together in seattle as
THE TUPPERWARES.when they re-
located to la they changed the name
to SCREAMERS & became within a
few months la`s heppest live band.

they came,saw & vanished without a
trace like the true citizen kanes of rock
& roll.singer extraordinaire tomata du
plenty became a painter in the 80`s
before he deceased in the late 90`s.

THE WEIRDOS DESTROY ALL MUSIC
i`m gonna kick in the radio
i`m gonna bomb the record store
i say destroy all music
i say you just can`t use it
broke all my records & my stereo
ripped up my tickets to see ELO
i say destroy all music
i say you just can`t use it
it all sounds the same to me
manufactured in a factory
they got style,they got class & they got the
neutron bomb.THE SEX PISTOLS meet
CAPTAIN BEEFHEART dressed to kill by
JACKSON POLLOCK.in 1979 they were one
of the first punk-turned-into-rockabilly-
bands.THE WEIRDOS re-united in the late
80`s,released a new album in 1990 & are
still going strong.

X-JOHNNY HIT & RUN PAULENE
he bought a sterilized hypo
to shoot a sex machine drug
he got 24 hours
to shoot all paulenes between the legs
he'll throw 96 tears thru 24 hours
sexed once every hour
johnny hit & run paulene
l.a. bus doors open kicking both doors open
when it rested on 6th street
that's when he drug a girl
inside he was spreading her legs
& didn't understand dying
she was still awake johny hit & run paulene
when he was waking up beside the bed
he found clumps of hair
the last paulene wouldn't cooperate
she wasn't what you'd call living really
but she was still awake johny hit & run paulene
JEFFERSON AIRPLANE meets THE CLASH
featuring CHUCK BERRY & produced by ray
manzarek(THE DOORS).punk guitar hero billy
zoom was already a veteran of the la rockabilly
-scene centred around ronnie weiser`s ROLLIN`
ROCK-label,he even played for thelate,great
GENE VINCENT.in the 80`s X got signed by a
major label,became a bonafide rock band &
JOHN DOE co-starred in some hollywood flicks.
billy zoom left X in the 90`s but X continued
with a new axeman.


THE GERMS-NO GOD
I've read every book in the bible story
And all is every brought me was another worry
Don't want god give me a jury,
See...there's no God to make
up my mind- no God givin' me time...
I peered in every window where I saw a cross
But I could never see just what they saw
In that piece of plaster on the wall,
See...there's no God to fear-
No God to hear your cries...
I'd prey to anything out there
If only I was given some sign to bear
But while I wait I'm gonna live,
See...there's no God to watch over me-
No God for human beings...
When I small I obeyed his every word
Handed down to me by some thoughtful blur
But now I am as big as he,
See...No God bigger than I-
No God frightening me...
In my image I made he him & I gave him life
So he burned me,the creature has risen and I
Think you can see just what it is
that's drivin'me around round...
We are the church we are good
we've got your millions God know we should...
[repeat first verse]
the premier american hardcore band
featuring the ultimate kamikaze superstar.
the first album was a shock to the punk
system -faster than the speed of pepsi light
& a vocalist that sounded like a puzzled
panther on the loose.on stage THE
GERMS generated total mayhem with an
unleashed darby crash doin`damage to his
body & the audience.when THE GERMS
crashed & burned,he formed the DARBY
CRASH BAND before he died on drugs o.d.
guitarist pat smear played in the highly over-
rated NIRVANA before he kickstarted THE
GERMS again - THE GERMS without darby
is likeTHE MANSON FAMILY without charlie.

ALLEY CATS-IT ONLY HURTS THE FIRST TIME
another rockabilly guitarist cum punk band from
la(randy stodola).like X they got male/female
vocals too.when nothing means nothing anymore
give me a little pain.punk powerhouse trio with
the cutest bassist (dianne chai) since gayeadvert.
THE ALLEY CATS released a classic 45 on
DANGERHOUSE,2 albums plus another one
under the new name THE ZARKONS.

THE BAGS-SURVIVE
fronted by a tough chicano punkette
who screamed into the microphone
like a babylonian gorgon.they didn`t
need the english to create a sound of
their own.when THE BAGS split the
singer formed the ALICE BAG BAND
(featured in the DECLINE-movie.
original bassist patricia morrison left
for 45 GRAVE,SISTERS OF MERCY
etc before she hit full score & became
dave vanian`s girlfriend & permanent
member in the latest line up of THE
DAMNED.
THE FLESHEATERS
turbo thrash punk vs slo-mo psycho blues with
a singer screaming out his lungs like a demented
RICHARD HELL from hell.THE FLESHEATERS
were chris d calling all shots accompanied by
fellow musicians from la-bands like X & THE
BLASTERS.they first raised their shriek voice on
the "TOOTH & NAIL"compilation.over the years
the line ups changed,but THE FLESHEATERS
will never fade away `til the world turns flesh.
THE DICKIES-BANANA SPLITS
bubblegum highspeed novelty punk band
famous in the first place for their punked
up versions of songs like "eve of destruction"
or "sound of silence".THE DICKIES were the
only westcoast punk band that got signed by
a major label & had top twenty hits in the uk
(where they appealed mostly to little kids).
THE DICKIES never broke up,they still drive
their fans ape all over the world.

FEAR-I LOVE LIVIN´IN THE CITY
I love livin' in the city [x2]
My house smells just like the zoo,
It's chock full of shit and puke!
Cockroaches on the walls
crabs crawlin' on my balls
Ohh, but I'm so clean cut,
I just wanna fuck some sluts
I love livin' in the city [x2]
Spent my whole life in the city,
Where junk is king and the air smells shitty.
People pukin' everywhere.
Piles of blood, scabs and hair.
Bodies wasted in the street
people dyin' on the street
But the suburban scumbags, they don't care
Just get fat and dye their hair
I love livin' in the city...
the most controversial la band so far.FEAR
were better musicians than most punk bands
at that time,but they didn`t showed off(they
rather jerked off).a self-claimed gay punk band
that promotes queerbashing-that`s hardcore.
they loved to be hated.JOHN BELUSHI was a
big admirer & he provided FEAR a guest
performance in "SATURDAY NIGHT LIVE"
(where a mob of la-punks wrecked the tv studio).
flea of the RED HOT CHILLI PEPPERS was a one
time-FEAR-member.in the early 80`s FEAR-
crooner lee ving-role model for any given psycho-
path-became an actor.in the 90`s FEAR came back
with lee as the only remaining member of the
original line up.
45 GRAVE-IRON CROSS
THE CONSUMERS,arizona`s first & greatest
punk band transplanted themselves to la,added
a girl singer & a new,dark image & turned into
the premier horror punk band of karloffornia.
ex-BAGS-bassist patricia morrison joined
45 GRAVE & they were ready to rock the crypt.





VOM-I´M IN LOVE WITH YOUR MOM


snotty garage band featuring punk poet/rock
critic richard meltzer as singer.they were
cruising down hollywood hills in their punk-
mobile to save the whales.meltzer was known
for throwing food at the audience just to provoke
a reaction.after just one single VOM(short for
"vomit")quitted & greg turner & metal mike
saunders founded THE ANGRY SAMOANS.
richard meltzer (r.i.p.).







ANGRY SAMOANS-TIME HAS COME TODAY


have to roam I`ve got no home
my mind is blown the truth is unknown
Time has come, time has come today
time has come, time has come today
I have no place to stay
thinkin' about the subway
The rules have to changed today
this world is blown away
Time has come, time has come today
time has come, time has come today
I have no home I have no home
no place to run I'm staring at the sun
Thinkin' about the subway
this world is blown away
Time has come, time has come today
time has come
after the demise of VOM it was about time
for a new offensive la punk band.today
remembered for tasty,sophisticated,classic
lines like "they saved hitler`s cock & planted
it in your backyard",THE ANGRY SAMOANS
caused a stir in 78 with their instant hit "rodney
bingenheimer get off the air"(bingenheimer was
la`s leading punk new wave-dj).that lead to THE
SAMOANS got banned at most la-clubs.

THE CIRCLE JERKS-WILD IN THE STREETS

wild,wild,wild,wild,wild in the streets
wild in the streets wild in the streets
in the heat of the summer
better call out a plumber
turn on the steam pipe cool me off
with your big crime fighters
& your newspaper writers
still need a drugstore to cure my buzz
wild in the streets,running,running (3x)
wild in the streets
'64 valiant,hand full of valiums
couple of beers really do me right
you better believe us,better trust us
teenage jive,walking wreck
wild,wild,wild,running wild
wild in the streets,running,running (3x)
wild in the streets
got a gang called the wolves
you have to choose
play with the boys you're bound to lose
a bottle in one hand a can in the other
don't fool around
cause they're real mean mothers
wild,wild,wild running,running wild
Mrs. America,how's your favorite son?
do you care just what he's done? no!
wild in the streets,running,running...
ex-BLACK FLAG-shouter keith morris got a
new band.over night THE CIRCLE JERKS
turned into the hottest hardcore dance craze
on sunset strip,most of their gigs turned into
full scale riots of frantic slam dancing,constant
stage diving & spikey kids doing the circle or
the skank.because the hardcore elements they
attracted,THE CIRCLE JERKS got banned in
most la-rock clubs.in the 90`s they did a re-
union & released a new album.

KAOS-NUCLEAR NIGHTMARE

THE CONTROLLERS were one of the
greatest la-bands in the 70`s (featuring
world`s only black female drummer mad
dog karla).when they broke up guitarist
johnny stingray formed KAOS(named
after the worldwide terrorist organisation
in "GET SMART"),who released one great
7inch & faded into obscurity.
RUBBER CITY REBELS-CHILD EATERS

originally from akron they left the cold
behind(like their pals DEAD BOYS) &
relocated in la,-THE REBELS weren`t
no newcomers-before the name change
they called themselves KING COBRA &
were playing some kinda proto punk as
early as 73.they even opened their own
punk club THE CRYPT in akron in 77 -
after they got hired & fired by major SIRE,
half of the band left for home,where they
formed HAMMER DAMAGE.with 2 new
recruits the la-leftovers recorded their 1st
full-length album(together with fellow
akronites THE BIZARROS they shared a
a split lp in 77).they had a guest performance
in the "TAG"-action movie & were featured in
"NEVERMIND THE PISTOLS,HERE`S THE
BOLLOCKS" 78.they came back a few years
ago & released a new album.
BLACK FLAG-WHITE MINORITY

Were gonna be a white minority
We wont listen to the majority
Were gonna feel inferiority
Were gonna be white minority
White pride
Youre an american
Im gonna hide
Anywhere I can
Gonna be a white minority
We dont believe theres a possibility
Well you just wait and see
Were gonna be white minority
White pride
Youre an american
White pride
Anywhere I can?
Gonna be a white minority
Theres gonna be large cavity
Within my new territory
Were all gonna die
BLACK FLAG compared to THE DEAD
KENNEDYS was like THE CLASH com-
pared to THE SEX PISTOLS,only second
best.when they got dez caneda then keith
morris as singers they were a solid anarchist
punk band.when henry rollins(ex-STATE
OF ALERT)took over BLACK FLAG turned
into a hardcore monster.after the FLAG
greg ginn & chuck dudowski founded SST-
RECORDS,one of the leading hardcore
labels in the 80`s & 90`s.dez caneda formed
DC 3,keith morris THE CIRCLE JERKS &
henry rollins became the ARNOLD
SCHWARZENEGGER of hardcore.
THE PLUGZ-IN THE WAIT

it`s all the same & we`re still waiting
it`s all the same & you`re still waiting
i`m waiting for nothing
it`s all the same & you`re still waiting
it`s all the same & you keep waiting
i`m waiting for nothing
oh what am i waiting for
you`re waiting for nothing
oh what are you waiting for
like THE ZEROS THE PLUGZ were
an la-punk band from the barrio.in
the beginning they started out as an
accoustic duo playing mexican folk
songs at wedding parties before they
turned punk.even as punk band they
used the spanish language in some of
their songs,they even did a rousing
version of the traditional mexican
folk song "la bamba"(immortalised
in the 50`s by RICHIE VALENS).
in the early 80 they changed their
name to CRUZADOS.in the 90`s
singer/guitarist tito larriva founded
TITO & TARANTULA in the 90`s
who appeared in the horror movie
"FROM DUSK TIL DAWN" as a
vampire mex-surf band from hell.
CATHOLIC DISCIPLINE-UNDERGROUND BABYLON
like THE FLESHEATERS CATHOLIC
DISCIPLINE was SLASH-loudmouth
claude bessy backed up by musicians
from bands like craig lee(THE BAGS),
phranc(NERVOUS GENDER) & rick
brodey(BPEOPLE),later replaced by
robert lopez(THE ZEROS).CATHOLIC
DISCIPLINE were regulars at THE
HONGKONG CAFE,were featured in
"DECLINE OF THE WESTERN CIVI-
LISATION & got invited to support
ECHO & THE BUNNYMEN in the uk
(they turned down that offer).
claude bessy(rip).
AGENT ORANGE-BLOODSTAINS

they can make things worse for me
sometimes i'd rather die
they can tell me lots of things
but i can't see eye to eye
well, i know they know the way i think
i know they always will
but someday i'm gonna change my mind
sometimes i'd rather kill
bloodstains - speed kills
fast cars - cheap thrills
rich girls - fine wine
i've lost my sense - i've lost control
-i've lost my mind
things seem so much different now
the scene has died away
i haven't got a steady job
and i've got no place to stay
well, it's a futuristic modern world
but things aren't what they seem
someday you'd better wake up
from this stupid fantasy
[chorus]
huntington beach`s undisputed kings of
surf punk,living in darkness in the land
of sunshine.fast cars,cheap thrills before
everything turns grey.delivered the surf
punk überhit "bloodstains" first for an
orange county compilation.bassist steve
soto-who played on the original version
-left the band to form THE ADOLESCENTS.
in the 80`s became a favourite in the skate
punk scene,they even appeared in the
soundtrack of a TONY HAWK-game.

OINGO BOINGO-VIOLENT LOVE

Oh, baby, you look so good.
Honey, I knew you would please, don't go away
(Uh-uh-uh) Darling, say it's OK
I want to make violent love
To you by the moon above
I want to make violent love to you.
I want to kiss everynight
To squeeze and to hold you tight, tight, tight
I want to make violent love to you I wanna
I don't want to seem frantic
I don't want to cramp your stlye
You're driving me into a panic
O-oh! You just wanna drive me, drive me
drive me, drive me, drive me wild
I don't want to seem frantic,
I don't want to cramp your style
You're driving me into a panic
You just wanna' drive me, drive me
drive me, drive me, drive me wild
Ooh, hoo! Oh, baby, you drive me wild
I want to kiss everynight
To squeeze and to hold you, hold you tight
I want to make violent love to you...
they came together as early as 1972 as THE
MYSTIC KNIGHTS OF OINGO BOINGO
(with richard elfman as their leader)playing
a weird mixture of sci-fi jazz & chamber music
dressed in futuristic costumes & make up..in
76 richard left to became a filmmaker & passed
the leadership to his younger brother danny.
they shortened their name to OINGO BOINGO
& got somewhat influenced by the expanding
punk & new wave scene,dropped all that jazz &
headed into the direction of bands like DEVO or
XTC.they had some minor hits in the early
80`s,exchanged labels & became just BOINGO
in the 90`s.when the band split danny elfman
turned into a one of the most successful holly-
wood soundtrack composers to this day.

LEGAL WEAPON-EQUALIZER
singer kat arthur was called "the JANIS JOPLIN of
punk",she sure got soul.ex-BAGS bassette patricia
morrison played in LEGAL WEAPON before she left
for THE GUN CLUB.steve soto & rikk agnew of THE
ADOLESCENTS played on the first legal album.
the weapon is still loaded to make your day,punk.
GEZA X-PRACTISING MICE
geza x was the soundman at THE MASQUE,he pro-
duced a stack of classic la punk-singles by the likes
of THE GERMS,THE WEIRDOS,AVENGERS,DEAD
KENNEDYS et al & fronted his own band GEZA X &
THE MOMMYMEN who played a unique brand of
punk,funk,jazz & r&b.in the late 80`s he became a
full scale-producer for early rap & alternative rock acts.

SURF PUNKS-MY WAVE
established by local surf boy dennis dragon,brother
of darryl from the soapy 70`s pop duo THE CAPTAIN
& TENNILLE to play some kinda frat punk.the blonde
& blue-eyed masterrace invaded muscle beach - this is
my beach,this is my wave,surf nazis must die.singer
scott poppard was KIM FOWLEY`S chaffeur.after 5
major label-albums THE SURF PUNKS disbanded
in the late 1980`s.

THE ROTTERS-AMPUTEE
formed by some snotty film students
at moorpark college with the aim to
piss off as many people as possible
with their music(they got even kicked
out at MICKEY MOUSE-DISCO),they
released their 1st 7inch "sit on my face,
stevie nicks",dedicated to the FLEET-
WOOD MAC-singer.when it got on the
air via RODNEY ON THE ROQ`S,mick
fleetwood took action & let loose his
barmy army of advocates.as a result
THE ROTTERS 45 didn`t get played
on the radio anymore & wasn`t available
in any record store.but the band got over
it & continued until today.